After a year filled with isolation and uncertainty, kids in our community deserve a summer of fun. You can provide that.
When the world shut down in an instant just over a year ago, children missed out on so much. Schools were closed. Kids were isolated. And many felt an overwhelming sense of uncertainty. But your support of our YMCA ensured that we could respond to the needs of children and families in our community. Thank you.
This summer, we need your continued help to ensure kids can have fun, be safe, and start to regain part of their childhood that was lost.
YMCA summer camp and enrichment programs are more important than ever. Your support will:
Provide an outdoor, screen-free environment for children to play and have fun.
Foster friendships – new and old – as campers spend the day together in new activities, rebuilding social skills.
Surround our children with positive role models who care about their emotional, mental and physical health.
Allow parents to return to work, knowing their children are in the best care.
Extend learning beyond the school year as we incorporate STEM, math and literacy in to our camp day.
Your generosity will help kids like Sam: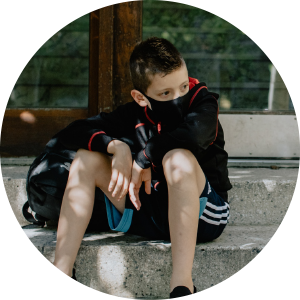 Because of repeated quarantines and lack of space to allow children a safe learning environment, Sam only spent about eight total weeks at school this year. His days have been spent in front of a screen with limited interaction with anyone outside our house. I know he's struggling academically, but I'm really worried about how this is affecting him emotionally. I'm so grateful the YMCA will be able to offer a safe, fun and social place for him to spend his summer.
Your support will help kids like Sam in our community heal from the mental, academic and physical stress of the last year.
If you are able, please consider making a gift to the YMCA so that we can help kids in our community rebuild and thrive this summer.
Thank you for partnering with the Y and joining with us as we build into our community, emerging from the crisis stronger for having lived through it.