Our caring, friendly staff are here to help.
---
Stay & Play
---
Let us care for little ones while you work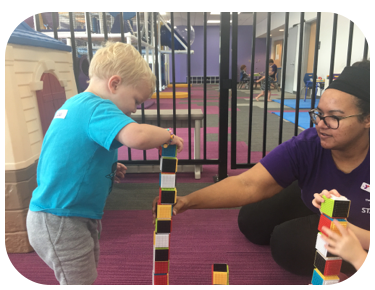 out! Make a reservation to drop off kids ages 6 weeks - 12 years old for 1 hour per session.

Please note: the play structure is not available at this time.
HOURS:
Monday - Friday | 9am - 12pm; 4pm - 7pm
Saturday | 9am - 12pm
Sunday | 12 - 3pm
The use of Stay & Play is a free benefit of Brooks YMCA membership.
---
Make a Reservation for Stay & Play
---
Reservations are required for Stay & Play.
Reservations open 48 hours in advance.

To make a reservation, you must sign in to Virtuagym.
You can also sign in via the Virtuagym app.
For more information, please see our Virtuagym Member Guide [PDF] > [Jan 2021]
If you need help activating your account, please call the membership desk at (434) 974-9622.

---
COVID-19 Policies for Stay & Play
---
Since children under 12 cannot yet get vaccinated, all youth ages 5-12 and staff working directly with youth are required to wear a mask until further guidance is issued.

Please arrive 10-15 minutes early so we can get children checked in and parents can make it to their class.

Please note: if a child is coughing, has a runny nose, or is experiencing any other potential symptoms of COVID-19, they may not be dropped off at Stay & Play. If a child exhibits symptoms during their time in Stay & Play, we will call and ask you to pick up your child.

No strollers or diapers bags are allowed. Please bring any necessary items in a big ziplock bag.

Please do not bring toys, stuffed animals, or blankets, and make sure everything is labeled.

Milk, juice, water, and fruit pouches are allowed, but all other food is prohibited due to food allergies.

Please make sure your child is changed prior to being dropped off. We will change them if need be during their time in our care.

We will be doing temperature checks. Any child with a 100.4F+ temperature may not be dropped off.
---
Please note: Parent's Night Out, Birthday parties, and other in-person events are currently on hold due to COVID-19.