Our caring, friendly staff are here to help.
---
Stay & Play
---
Let us care for little ones while you work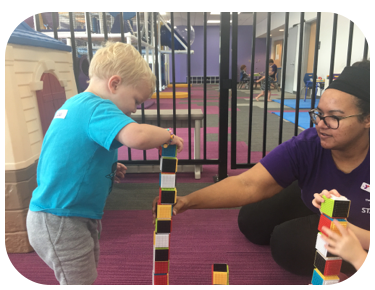 out! Drop off kids ages 6 weeks - 12 years old for 2 hours per session.
HOURS (effective September 11, 2023):
Monday - Friday 8am-12pm; 4pm-7pm
Saturday | 8am-12pm
Sunday | 12-4pm
The use of Stay & Play is a free benefit of Brooks YMCA membership.

---
Policies for Stay & Play
---

All children are required to wear socks in Stay & Play.

Please note: if a child is coughing, has a runny nose, or is experiencing any other symptoms of contagious illness, they may not be dropped off at Stay & Play. If a child exhibits symptoms during their time in Stay & Play, we will call and ask you to pick up your child.

No strollers are allowed.

Please make sure everything you bring is labeled with the child's name.

We have a NO FOOD policy.

Only water & formula/breast milk are the only beverages allowed.

Please make sure your child is changed prior to being dropped off. If your child needs to be changed, parents/guardians will be called to change them.

Requirements for play structure side: Ages 4–12 and be potty trained.

We may do a temperature check. Any child with a fever (100.4F+ temperature), or any other contagious illness within the last 24 hours may not be dropped off.

Parents/guardians must sign their child in, along with leaving a cell phone number and a general workout location for staff to contact parent/guardian
---
YMCA Youth & Family Programs
---
Interested in other YMCA youth development programs? From early learning to after-school to summer camp, find out more about what our YMCA association has to offer! Learn more >
YMCA sports programs are designed to set your child on a lifelong path of fun, fitness, and friendship. See what sports programs our YMCA has to offer for ages 3 and up! Learn more >