DAILY RATE: $45 for YMCA members, $55 for non-members (sibling discounts available)
Financial assistance available.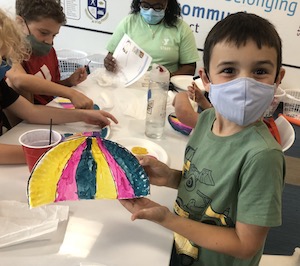 ---
Payment & Financial Assistance
---
There will be no refunds if a child does not attend camp. There will be a $25 fee for all returned checks or charges.
Although there is no hard deadline to apply for financial assistance, we ask for a minimum of 5 business days for us to review new financial assistance applications. Applications must be reviewed, in good order, and payment received before the child may attend camp. Please submit as soon as you think you are interested in camp.
DSS families must inform their case manager at least two weeks before the first day of camp.
Apply for Financial Assistance >

---
REGISTRATION
---
Registration is open March 1-27, 2023.
---
2Spots will be filled on a first-come, first-served basis so please complete step 1 as soon as possible. If your desired dates are full, please add your child's name to our wait list!

REGISTRATION STEP 1:
Reserve your child's spot and pay the non-refundable registration fee online here:


PLEASE NOTE:
1) If you have signed up for YMCA programs before, you already have a Daxko account! Please log in to your existing account to register your child(ren) for camp. Select "forgot password" if necessary.

2) If you are a NEW USER, you will be asked to create a FREE, NON-MEMBER user account in Daxko.

3) While you are creating a new Daxko account, when it asks if you'd like to ADD ANOTHER MEMBER, please say "yes" and add your child(ren) to your account.



4) Once your Daxko account is created, navigate to Programs → School Out Camp to sign your child(ren) up for camp.
5) Please make a reservation for each child who will be attending spring break camp.
---
REGISTRATION STEP 2:
We will contact participants who have finished step 1 in order to fill out paperwork and complete their registration in the program.
---
Questions? Contact Cassandra Barnes at youth@piedmontymca.org or (434) 270-7547.