Welcome to the Y! We're so happy you're signing up for a program with us.
---
Returning Program Participants:
If you have signed up for YMCA programs before, you already have a Daxko account! Please log in to your existing account to register your child(ren) or yourself for this program. Select "forgot password" if necessary. For any Daxko account questions, contact our membership team at 434-974-9622.
---
NEW YMCA Program Participants:
If you have never signed up for anything at the Y before, you will be asked to create a FREE, NON-MEMBER user account in Daxko.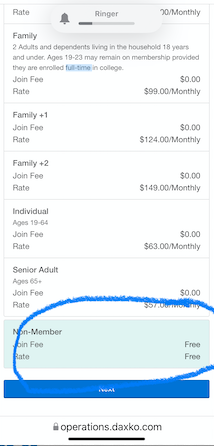 2. If you are signing up a child (rather than yourself) for a program, please do this important step: while you are creating a new Daxko account, when it asks if you need to ADD ANOTHER MEMBER, please select "Youth (18 and under)" and add your child(ren) to your account.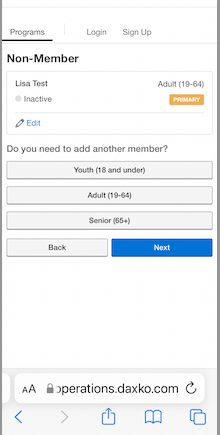 3. Once your Daxko account is created, navigate to Programs → [CATEGORY] → [SPECIFIC PROGRAM] to sign your child(ren) or yourself up for the program.

4. Please register EACH CHILD or adult who will be attending the program separately.
Questions? Please call our front desk at (434) 974-9622, and our staff will connect you with the person in charge of the program you're signing up for.