Tango & Rumba Combo Dance Class

WHEN: Wednesdays @ 7-8pm - May 31, June 7, 21, and 28 (No class on June 14)
MEMBER INDIVIDUAL: $25 (non-member: $40)
MEMBER COUPLE: $45 (non-members: $70)
Dancing has been proven to lower stress, reduce cholesterol levels, and improve brain function.
This class is taught by our dynamic, experienced, competitive ballroom dance instructor, Julie Boyer.
No experience or partner needed!

---
Monthly

N

u

t

r

i

t

i

o

n

Series
A Complimentary Class for Y Members - No Cost - No Registration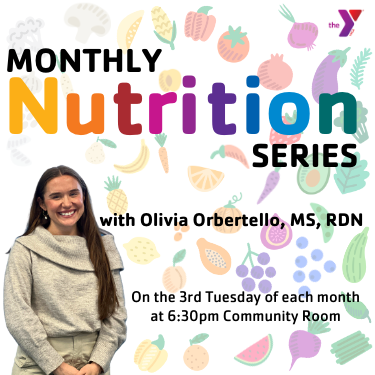 with Registered Dietician Olivia Obertello
Next Event: Fun with Food
Parents and kids, get ready for a fun-filled event where you can play with your food and discover the joys of healthier snacks! This interactive session is all about exploring the world of food through cooking, preparation, and learning about the benefits of different types of food. Bring your curiosity and appetite as we dive into creative ways to make nutritious snacks that are delicious and enjoyable for the whole family.
Don't miss out on this exciting opportunity to bond with your kids, learn new recipes, and cultivate a love for healthy eating habits!
WHO: Adults age 18+ (and for this one you can bring your kids!)
WHEN: Tue. 6/20, 5:30- 6:30pm in the Community Room
(6/20, 7/18, 8/15, etc.)
---

Free Ivy Rehab Physical Therapy Screenings
We are excited to announce that the Y is partnering with Ivy Rehab to offer free physical therapy screenings every month!
If you're in pain, have recently injured yourself, or just think something might be wrong, you can come and meet one-on-one with a physical therapist who will conduct a thorough assessment of your condition.
WHO: Adults age 18+
WHEN: the 2nd Tuesday & 2nd Wednesday of each month
10am-11am on Tuesdays
6pm-7pm on Wednesdays
---