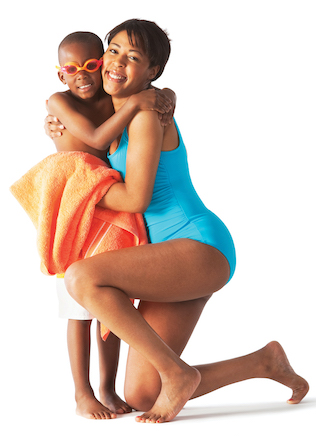 We offer swim lessons for 6 months old up to adults. Lessons range from 30-45 minutes depending on the age. We offer morning, evening and weekend classes. We also offer swim lessons for diverse abilities, as well as private and semi-private lessons.

Group swim lesson registration is open to Brooks YMCA members one week earlier than to non-members, and private swim lessons are only available to members. Learn more about Y membership >

---
Group Swim Lessons
---
Level Selector
All age groups are taught the same skills but divided according to their developmental milestones. To determine which stage the student is ready for, download the selector guide.
Lesson Selector (PDF) >

Registration
Registration for the Saturday Summer session and June weekday mini-sessions will open to members on Monday, May 15, and to non-members on Monday, May 22 at 9 AM.
Member registration for group swim lessons opens one week prior to non-member registration. Please see the above flyer for registration dates. Registration closes the Monday prior to the week of classes beginning unless classes fill prior to that date. You can register online or in person at the Brooks Family YMCA.

---
Private Swim Lessons
---
| | Private | Semi-private | Diverse Abilities |
| --- | --- | --- | --- |
| 1 Lesson | $35 | $25 | |
| 4 Lessons | $130 | $85 | |
| 8 Lessons | $240 | $155 | $70 |

Private swim lessons are a members-only program. If interested, please contact the front desk to activate your YMCA membership today.
Upon completion, anyone wishing to continue private lessons will need to submit a new private lesson request and return to the waitlist.
Disclaimer: Lesson packages expire 6 months from the date of purchase. Any unclaimed lessons will be marked no show and the lessons forfeited.
In an effort to better serve our members and the high demand for swim lessons, effective June 1st and running through September 1st, all private lesson packages will be limited to packages of 4 lessons and 1 package renewal.
Cancellation policy: The Brooks Family YMCA requires a minimum of 2 hours advance notice to be able to cancel and/or reschedule private swim lessons. Failure to attend your scheduled lessons without adequate advance notice will result in being marked no show and the forfeiture of the lesson.
To cancel or reschedule, please contact Lindsay Critzer at lcritzer@piedmontymca.org or by phone at 434-270-7566.