---
YMCA After School: Charlottesville City Schools
The YMCA After School program in Charlottesville City Schools is a safe, fun, nurturing, and dependable enrichment program for CCS students in grades K-6.
This Virginia-licensed child care program is offered on site at all the Charlottesville City Schools elementary & upper elementary schools:
Burnley-Moran Elementary School
Clark Elementary School
Greenbrier Elementary School
Jackson-Via Elementary School
Johnson Elementary School
Venable Elementary School
Walker Upper Elementary School
With a focus on engaging children in a wide range of enriching activities, YMCA After School operates every day that children attend school, beginning at school dismissal and closing at 5:30 pm.
YMCA After School is designed to support childrens' academic achievement and social-emotional development. Experienced, child-focused staff provide students with:
Homework help
Arts and STEM activities
Games and outdoor play
The YMCA is committed to providing a safe and healthy environment for the growth and development of your child.
---
Weekly Rate
A non-refundable fee of $25 per child will be due at registration. There is a 10% sibling discount on the weekly rate. See next section for additional information about financial assistance.
Household
Income***

Weekly Rate
First Child

Weekly Rate
Additional Children

$30,000 or less
*
*
$30,001-$40,000
$30
$27
$40,001-$55,000
$40**
$36**
$55,001-$70,000
$50
$45
$70,001-$85,000
$60
$54
$85,001-$100,000
$70
$63
$100,001-$150,000
$85
$76.50
$150,001-$200,000
$100
$90
$200,001+
$150
$135
*Please contact Charlottesville Department of Social Services at 434.970.3400 as you qualify for assistance under the Child Care Subsidy Program. Other families may qualify depending on family size.
**Rate for all Charlottesville City Schools employees.
***Household income is defined as Adjusted Gross Income for all parties of the household as stated on line 11 on Form 1040 of your tax return.
---

Financial Assistance
YMCA Scholarships
In addition to our sliding scale, Y provides scholarships to ensure that nobody is turned away from the Y for inability to pay. To apply for a YMCA scholarship for After School, families may:
If you have questions or need assistance with this process, please contact Bonita Patton at youth@piedmontymca.org.
Virginia DSS Child Care Assistance
As a licensed program, YMCA After School is able to accept Virginia DSS assistance aimed at helping parents in need afford child care.
---
REGISTRATION
---
Registration for 2023-24 CCS After School will open April 17, 2023 at 8am.
Spots are filled on a first-come, first-served basis so please register your child as soon as possible.
REGISTRATION STEP 1:
Reserve your child's spot online here:

NEW USERS PLEASE NOTE:
1) If you have signed up for YMCA programs before, you already have a Daxko account! Please log in to your existing account to register your child(ren) for After School. Select "forgot password" if necessary.
2) If you are a NEW USER, you will be asked to create a FREE, NON-MEMBER user account in Daxko.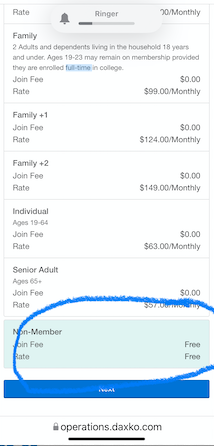 3. While you are creating a new Daxko account, when it asks if you need to ADD ANOTHER MEMBER, please select "Youth (18 and under)" and add your child(ren) to your account.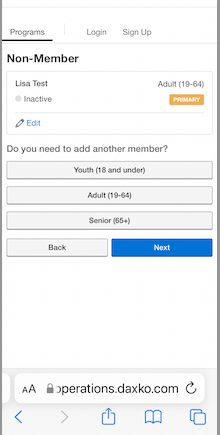 4. Once your Daxko account is created, navigate to Programs → After School → select your CCS school to sign your child(ren) up for the program.
5. Please make a reservation for each child who will be attending After School.
REGISTRATION STEP 2:
We will contact participants who have finished step 1 in order to fill out paperwork and complete their registration in the program.
---
Questions? Contact Cassandra Barnes, Senior Director of School Age Child Care, at cbarnes@piedmontymca.org.