The Y Celebrates Diversity September 12-20, 2020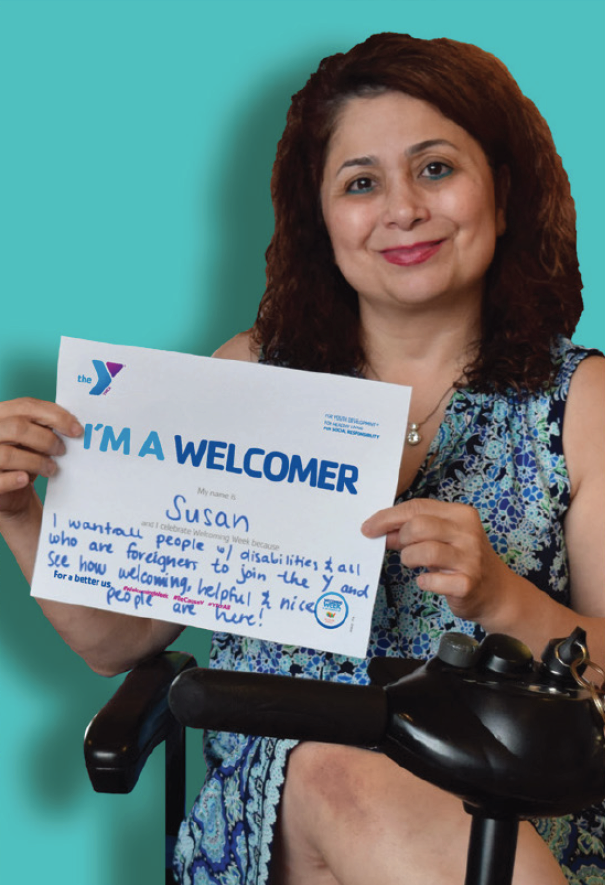 "I equate being a welcomer with hospitality – creating an environment where people feel at home; being kind and treating others as you want to be treated." - Jessica Maslaney, CEO of the Piedmont YMCA Association in Charlottesville, Virginia

At the Y, we stand for all and embrace diversity. Welcoming Week, September 12-20, is a national week of celebration honoring the contributions of different groups - immigrants, racial and ethnic minorities, LGBTQ+, and others - to the social fabric of our country.
Welcoming Week is about standing in solidarity with vulnerable communities, and helping communities move beyond divisions and fragmentation.

Join the Piedmont YMCA community to celebrate!
Social media questions
We'll be posting questions this week on our Piedmont YMCA and Brooks Family YMCA Facebook pages, and we would love it if you would respond in the comments! Share about your family's journey, your favorite family tradition, and more!
Welcomer selfies
Pick up an "I'm A Welcomer" sign when you visit the Brooks Y or Early Learning Center this week (or download it from this page), fill it in, and take a selfie to post on social media! YMCA staff will be happy to help.
'I'm a Welcomer' sign [PDF - your choice of color] >
Post to:
Brooks Family YMCA Facebook page or
Piedmont YMCA Facebook page (for Early Learning Center folks)
You can also email your selfie to our Marketing Director, Alice Dontanville, at adontanville@piedmontymca.org for help posting it online!
Look for us at Brooks
Find more information near the Y entrance when you visit the Brooks Y this week.
Early Learning Center
Check our Piedmont YMCA Facebook page for photos of Early Learning Center kids and staff participating in Welcoming Week activities.
We can't wait to see your posts and hear your stories! If you have questions or comments, please contact Roderick Howard at rhoward@piedmontymca.org or 434.974.9622.
The Brooks Family YMCA and the YMCA Early Learning Center are both part of the Piedmont YMCA Association in Charlottesville, Virginia.